Company History
Thomas P. LaRose
The House of LaRose had its beginning, not in the beer distribution business, but in transportation. In the early 1920's Thomas P. LaRose started the Grant Street and South Bus Line in Akron to transport workers to their jobs in the rubber factories.
The business grew with the addition of the Portage Lakes Transportation Company, which served the Portage Lakes area south of Akron. During this time, brothers Peter D. LaRose and Joseph F. LaRose began working at the bus company with Thomas.
In 1935, while still operating the bus service, Thomas P. LaRose became the Sales Manager for the Akron Brewing Company. The following year, Thomas and his brothers founded The House of LaRose to distribute beer to retail outlets throughout the Akron area. Three years later the brothers purchased the Akron Distributing Company and began to distribute beer full time in 1939.
During World War II, Thomas LaRose added wine distribution to the growing list of products, while Peter served in the army and Joseph served in the Marine Corps.
After the war, Peter and Joseph came back home to work in the business, then located on South Main Street in Akron.
Thomas A. LaRose, the son of the founder, entered the family business in 1950. The firm continued to prosper becoming a wholesaler for Anheuser-Busch products in 1954. During the next three decades the Company grew steadily moving the operation to Opportunity Parkway in Akron.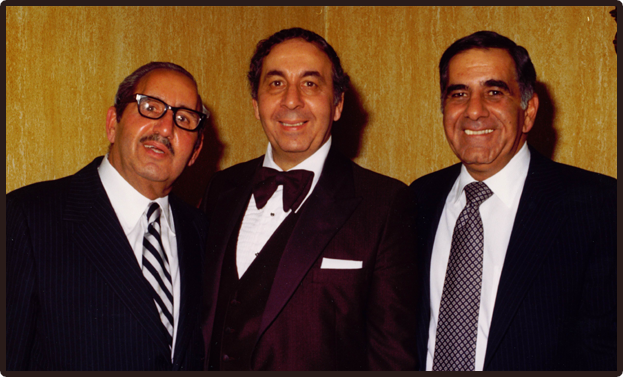 From left to right: Pete LaRose Sr., Joe LaRose, Tom LaRose
In 1979, The House of LaRose purchased the Anheuser-Busch wholesale distributorship in Cleveland from the Drenik family making it one of the largest beer wholesalers in Ohio and the nation at that time. A new office and warehouse facility opened in Cleveland in June 1990.
In 2004, the Akron and Cleveland facilities were relocated to Brecksville, Ohio. The newly constructed facility gave The House of LaRose one distribution facility with over 300,000 square feet of office and warehouse space under one roof with the capacity to store 1.5 million cases of beverage products. The building is designed according to rigid standards for temperature controlled storage. This storage enables The House of LaRose to deliver fresh product to its customers. A cutting edge warehouse management system controls the inventory and loading process facilitating timely deliveries.
The House of LaRose's beverage distribution business currently employs approximately 305 people servicing over 5,200 customers in eight Northeastern Ohio counties. The Company sells and distributes the following products: Anheuser-Busch InBev, Yuengling, Goose Island, Corona, Mike's Hard Lemonade, Taste of Florida drink mixes, Dads Root Beer, and Icelandic Glacial water and much more. The Company retains its family business beginnings with Thomas "Tim" C. LaRose, Chairman of the Board and Chief Executive Officer, and James P. LaRose, President & Chief Operating Officer.
For over 75 years, the LaRose family has operated its business believing that customers and employees both are essential to long-term success.